On September 21, 2020 The National Police Commission granted approval to promote a female Police Officer as Deputy Inspector General of Police. The decision paved way to the appointment of DIG Bimshani Jasin Aarachchi making her the first female DIG in the country. Many applauded and felicitated, as DIG Bimshani came with glowing recommendations owing to her work with the Child and Women Bureau of the Police Department.

Merely five months later, the Supreme Court set dates to hear the petition signed by 32 Senior Superintendents of Police (SSPs) challenging the appointment of DIG Bimshani. The petition cites that DIG Bimshani's appointment was in violation of the Police promotion procedures in place.

Many have declared their support for the first female DIG in Sri Lanka. While others who had congratulated the appointment in the past have remained tightlipped. Daily Mirror Insight Spoke to DIG Bimshani Jasin Arachchi on her thoughts about women in the police service.

'Women are still under-represented' – DIG Bimshani Jasin Arachchi


"Women are perceived as the soft gender. As a police officer, our job demands long and uncertain hours of duty and many risks. People think a woman is not suited to for the requirements of such a profession. Many hold a false belief that women are incapable of succeeding to the higher ranks of the police because we are unable to do what is perceived to be 'male' work. But, in reality, our women officers work long hours and they have engaged and are willing to be involved in frontline work. They joined the police because they liked the profession, knowing all the aspects of police work, including criminal investigations," DIG Bimshani said.
Even when we congratulated her, we never acknowledged what she had to fight and continues to fight. We sanitize women's stories and romanticized her struggle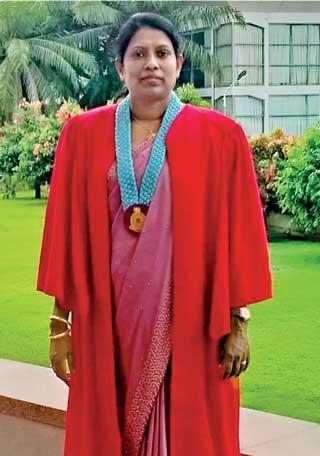 DIG Bimshani is also a fierce believer that women must forge ahead to change the norms. "Rule of law is the foundation of any country. The Sri Lankan Constitution has emphasized that individuals are subjected to the same laws in the same measure. Even though there are women in postings in the police, I think women are still under-represented. We must change this. Women can handle tough police operations just like men," she opined.
"In the last few years, we witnessed a drastic change in the role of women in the society. Sri Lankan women are now actively participating in many economic activities and contributing to the development of the country better than how they used to do. They have proved that they can work as equally as men. There are so many examples for that statement. It is disappointing to see several people attempting to maintain a certain sector as male-dominant," she opined.

DIG Bimshani expects that all Sri Lankan women are treated equally. "My expectation on behalf of all women is that we get a fair opportunity to prove our worth. The same selection criteria, training standards and promotions should be applicable to women as those applicable to male counterparts. It is about time this country brings a change in the society. Regardless of the sector, women should not be deprived of earning recognition they deserve," she said.
FACT FILE: DOES SRI LANKA POLICE HAVE A GENDER PROBLEM?

Although a minimum quota of 15 % has been recommended, the actual number of women police officers amounts to only 11.7 % of the total cadre.
Ten Police Divisions do not have women Inspectors of Police (IPs). Out of the 234 women IPs, 84 are in functional divisions located in the Division of Colombo. There are 15 women Chief Inspectors (CIs) of whom 11 are in the Colombo Division. All 10 ASPs and SPs are also stationed in Colombo.
The first batch of women was recruited in 1952 in Sri Lanka. Since 1952, the number of women in the Sri Lanka Police had increased to 8,640 as at 31st December 2017 representing 11.4% of the actual cadre of gazetted and non- gazetted officers. However, the approved cadre for women is 13.4% of the total but the 13.4% does not apply across ranks.
There are 8,878 women officers in the police. Of these, 8,099 or 91.2% of officers are non-gazetted officers in the ranks of Constables and Sergeants (10.7% of the total cadre). Of the 779 gazetted officers, 769 are junior gazetted officers in the ranks of Chief Inspector (CI), Inspector of Police (IP), and Sub Inspector of Police (SI) (1% of the total cadre), while only 10 women are senior gazetted officers (0.01% of the total cadre) in the ranks of Assistant Superintendent of Police (ASP) and Superintendent of Police (SP).
The average representation of women in the police globally is only 15.4%. In South Asia, the highest percentage of women was in the Maldives (9.30%): India had 6.11% and Pakistan just 0.64%.
Courtesy: A 2019 Analysis of Women Officers (National Police Commission, the United Nations Development Programme and Centre for Women's Research)

"Ministry would represent her" – Minister Piyal Nishantha


We asked the State Minister of Women and Child Development Piyal Nishantha about his thoughts on the matter. "I have not studied the circulars pertaining to promotions within the Police Department. However, I must say that we cannot allow a woman to be discriminated against, in this country. Sri Lanka takes pride in the fact that it produced the world's first female Prime Minister. Then we had an Executive President who was a woman. In a country where the highest offices of judiciary were held by women, it is regrettable that there is a notion that a woman cannot hold a high office. I believe this is wrong," Minister Nishantha said.

"If any woman is discriminated against in this manner, justice should be served. As a Ministry we would represent her at all times. I'm not aware of how the Police Department handles its promotions according to these circulars. But if promotions are withheld on the grounds that a woman has not been named eligible for it, such regulations should be amended tomorrow. That is my stance," he added.

The Minister also noted of his plans to uphold women's rights in future. "I would be tabling a special proposal on Women's Day. Women's Day celebrations would be observed with the patronage of the President and the Prime Minister soon. On this day, I would table the proposal to ensure that women's rights and entitlements are upheld," the Minister said.

"We never acknowledged what she had to fight" – Sharanya Sekaram


Feminist Activist and Researcher Sharanya Sekaram observes a few different aspects of this recent development. She wonders where all the women and men who applauded DIG Bimshani when she was appointed to this position. "We are all talking about it now. But a supreme court case is going to take years. What is going to happen to her in the interim? Instead of posting on social media, we need to tell the reality of her story," Sharanya said. "A lot of the narratives around the story was that Sri Lanka Police had suddenly woken up and decided they weren't sexist anymore. We are willing to celebrate women, whether it's the first female Prime Minister or whether it's someone like Kasthuri Chellarajah or DIG Bimshani, we sanitize the stories we tell about them. So the narrative is that the organisations or the system that appointed these women suddenly woke up and decided "you know it's nice noh, to have a woman?" This is so unfair to the women, because they struggle and go through immeasurable odds against them," she added.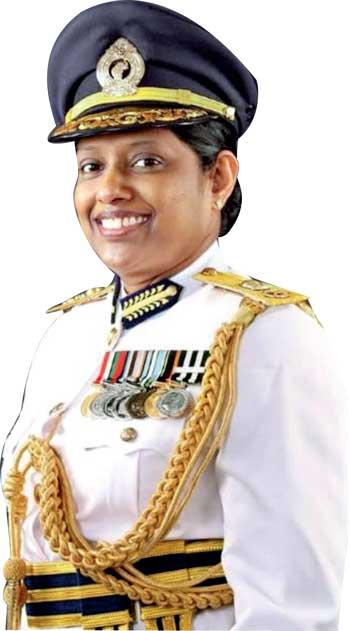 Sharanya also adds insight to the struggle of DIG Bimshani, stating that it is only after a Fundamental Rights petition that she was able to get this position. "It was not the Police Department who decided to give her this position. There are other ASP's who have also filed petitions but have been unsuccessful," she stressed.

Many people have now rallied behind DIG Bimhsani, showing their support, demanding that justice be served. But Sharanya is quite surprised of the public narrative of shock. "Really? Are you really shocked that the Police is like this? It's not just a problem of the Sri Lanka Police. We have a deeply patriarchal country. Are we really shocked that 36 male officers filed this case?" She asked.

The public have also focused on DIG Bimshani's educational and professional qualifications. However, Sharanya believes that a man would not have to go through this amount of scrutiny. "We all know about the Police Spokesperson. But do we know what his qualifications are? Do we know what qualifications are needed for a DIG? A woman has to be better than the best man, to get the most basic position," Sharanya opined.

Unfortunately by reducing DIG Bimshani to these set narratives, we have erased her struggle, the Activist points out. "Regardless of the outcome of this case, can you imagine the environment that is going to be there for the rest of her career and for other female officers? It's not that the case does not have merit. The case in the technical letter of the law has merit. But if Bimshani is the first female officer's name you know, isn't that a question to ask yourself?"
Bimshani is not a faceless idol for us to project our aspirations on to, Sharanya highlighted. "Even when we congratulated her, we never acknowledged what she had to fight and continues to fight. We sanitize women's stories and romanticized her struggle. We need to be more realistic about what women have to fight because rights are never given to us. Rights are fought for."

Sharanya also observed an interesting aspect of the story about DIG Bimshani, adding that this police officer was a 'good' woman to rally behind. "Bimshani's a good woman to show our support. She's Sinhalese, whether or not we want to admit that. She has qualifications. If she didn't have the qualifications, we would be far from supporting her.
Because we are not willing to support the rights of transgender women or sex workers as they are not 'good' women. If you don't dress a certain way, if you are not polite, if you're not ideal, nobody's willing to support you regardless of the injustices you face," Sharanya observed. "I think we need to unpack these and be real about what it is all about."